Y'ALL I have NEVER seen my hair like this…whoa (NATURAL HAIR SALON: wash, trim, and cornrows!)
Y'ALL I have NEVER seen my hair like this…whoa (NATURAL HAIR SALON: wash, trim, and cornrows!)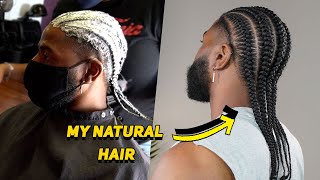 I am in tears almost, y'all. Like wow.
What style y'all gettin' at the salon?
The Gel: https://amzn.to/3icDVvO
HAIR SALON DETAILS
Name: Rare Essence Studio
Location: Tempe Arizona
Stylist: Alissa
Book Online: https://www.vagaro.com/rareessencestudio
Instagram: www.instagram.com/rareessencestudio
📭 WANNA SEND ME SOMETHING?
Will
P.O Box 20866
Phoenix, AZ 85036
SHOP SPLIT ENDS ARE LIKE FAKE FRIENDS, CUT THEM OFF https://www.bonfire.com/split-ends-are-like-friends/
Some of the links in this description box are affiliates that help boost the quality of these videos from time to time. Thanks for supporting the channel!
————————————————–FAQS—————————————————–
What's your hair type?
3c-4b, low porosity, fine hair
How long have you been growing your hair?
Almost 6 years!
How old are you?
26
Can you recommend products?
Whatever you see me use and like in a video..that's what I suggest! But always use what works for YOU.
——————————————- FOLLOW ME! ———————————————-
2nd YOUTUBE : https://www.youtube.com/channel/UCzxwtCIxkQxd_ANMqUrzrSg
INSTAGRAM: www.instagram.com/willnotwilly
INSTAGRAM 2: www.instagram.com/_willonawhim
FACEBOOK: www.facebook.com/willonawhim
TWITTER: www.twitter.com/willonawhim
SNAPCHAT: @willonawhim
SOUNDCLOUD: www.soundcloud.com/willonawhim
————————————– DISCOUNTS/CODES—————————————–
Alikay Naturals 15% OFF
USE CODE: WILL15 at https://goo.gl/7FYpts
Use code 'willonawhim70' for 70% off!!
Ultimate Skin Spa by Vanity Planet: http://vpwow.com/willonawhim70
USE CODE: GROOVEWITHWILL FOR 50% OFF YOUR SCALP MASSAGER AT http://www.vpwow.com/groovewithwill
LYFT Code: WILL308965
$40 FREE for your first AIRBNB! www.airbnb.com/c/willh46
—————————————— CONTACT ME! ———————————————
FOR BUSINESS INQUIRIES ONLY: willonawhim15@gmail.com
As always!
Thanks for watching!
Much Love ❤️
Will
WillOnAWhim is a one-stop shop for all things hair, travel, food and shenanigans! Enjoy!