Why This Haircut Costs $1,000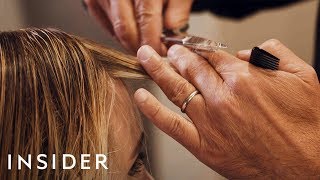 Hair stylist Julien Farel's $1,000 haircut is a transformation that celebrities like Kate Moss and Celine Dion can't get enough of. His full Power Hour treatment is an extra $500 and gets you a manicure, pedicure, hair color, and, of course, Champagne. Insider's Emily Christian is on a mission to find out why celebs are shelling out over $1,000 for a haircut. She chats with Julien about how a haircut is set apart from the rest when it complements the architecture of the face.
Editor's note: A previous version of this video implied that our host paid $1,000 for the haircut herself. In fact, Insider paid a discounted media rate for the experience. We regret the error.
——————————————————
#Haircut #Beauty #Insider
Insider is great journalism about what passionate people actually want to know. That's everything from news to food, celebrity to science, politics to sports and all the rest. It's smart. It's fearless. It's fun. We push the boundaries of digital storytelling. Our mission is to inform and inspire.
Subscribe to our channel and visit us at: https://www.insider.com
Insider on Facebook: https://www.facebook.com/insider/
Insider on Instagram: https://www.instagram.com/insider/
Insider on Twitter: https://twitter.com/thisisinsider
Insider on Snapchat: https://www.snapchat.com/discover/Insider/4020934530
Insider on Amazon Prime: https://www.amazon.com/v/thisisinsider
Insider on TikTok: https://www.tiktok.com/@insider
Insider on Dailymotion: https://www.dailymotion.com/INSIDER
Why This Haircut Costs $1,000