Why hairstylists should PAY to get their hair done | Hairstylist Business Tips and Advice
Why hairstylists should PAY to get their hair done | Hairstylist Business Tips and Advice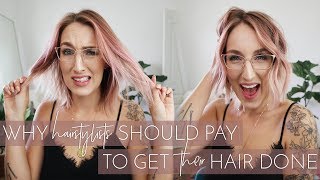 If you're a hairstylist, you usually trade to get your hair done or have a coworker do it. Well in this video, I'm talking about why you should PAY to get your hair done by somebody you don't know!
I got my hair cut by Brian Aguilar (https://www.instagram.com/brianaguilarhair/) and it made me think why hairstylists should get their hair done by someone they don't know and actually pay for a service themselves every once and a while.
In the video, I share three reasons and those reasons will help you become a better stylist for your clients!
————
IF YOU LIKE THIS VIDEO, come over to Instagram and let me know! I'd love to hear your favorite thing about this video! https://www.instagram.com/jamiedanahairstylist
————
Are you a hairstylist who wants to get more followers and ultimately more clients in your chair? I have a workbook I created just for you that takes away the confusion of using hashtags on Instagram!
➵ Download my FREE Hashtag How To Guide for Hairstylists: https://www.jamiedana.com/hashtagworkbook