ULTIMATE PRO Self-Haircut Kit with LITHIUM MAX® Power – How to cut your own hair – Men's Haircut
ULTIMATE PRO Self-Haircut Kit with LITHIUM MAX® Power – How to cut your own hair – Men's Haircut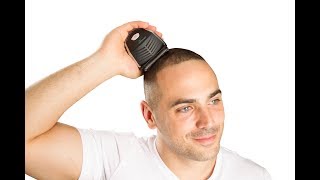 Introducing the New MANGROMER ULTIMATE PRO Do-It-Yourself Hair Cut Kit! Give yourself the ULTIMATE CUT and never pay for a haircut again!
The MANGROMER ULTIMATE PRO Self-Haircut Kit comes with 9 length guide combs to get you the exact length and style – Including fades, crews and buzz cuts. The ergonomic rubberized clipper fits easily in your hand for maximum control to effectively cut and trim the back, front, sides, around the ear, neckline, and sideburns.
Start with a longer guard and then adjust to a smaller guard to get that exact length you want. Remember, you can always cut more hair off but not add any back. For best results, cut against the grain of your hair from the front to the top of your head and from the back of the neck to the top of your head. Use smooth and slow passes over your head to ensure an even cut.
The self-sharpening stainless steel, hypoallergenic extra-wide blade, allows you to follow the contour of your head and easily cut large portions of your hair with each stroke. You can easily maneuver the trimmer around your ear and the back portion of your head.
To trim around your neck and sideburns, just remove the guard, expose the blade and turn the trimmer over so the flat edge of the blade is in contact with the skin.
With the new Lithium Max® Power, the lithium ion battery lasts up to 3X longer than a standard NiHD/NiCad battery and enables super fast and easy recharges.
The clipper can also be used corded or cordless for maximum versatility and convenience.
Clean up is a breeze. The clipper is completely waterproof and can be cleaned by rinsing the blades and unit under the faucet. For a more thorough cleaning, just pop of the blade head by pressing the opposing side buttons and clean it separately. Also, rinse off the inside of the unit.
After cleaning the clipper, turn on the unit and apply a small amount of blade oil to the blade. This will extend and increase performance of the clipper. A small brush has been included to brush away loose hair clippings when rinsing is not available.
Never pay for a haircut again with the MANGROMER ULTIMATE PRO Do-It-Yourself Hair Cut Kit.
Keeping your hair neat, clean and well groomed says you got it all together!
MANGROOMER – Maintain Yourself!
Product Features:
* 9 Length guide combs let you cut the exact length and style – sizes include 1.5 / 2.0 / 2.5 / 3.0 / 4.5 / 6 / 9 / 12 / 15mm
* Ergonomic rubberized trimmer fits easily in your hand for maximum control to effectively cut the back, front, side of your head, neckline, sideburns and around your ears
* Hypoallergenic extra-wide self-sharpening stainless steel blades that precisely cut to the contour of your head
* New LITHIUM MAX® battery allows for easy and fast re-charging, plus a Charge Light Indicator alerts you when charging (red) and fully charged (green)
* Can be used corded and cordless for maximum versatility and convenience
* Cleans easily by rinsing with water
* Convenient storage and travel case
* Universal voltage
Inside the Box: ULTIMATE PRO Self-Haircut Trimmer, Power adapter, 9 Length Combs, Travel/Storage Case, Blade Oil