Twins Barber shop! The Best Barber shop in Phoenix!
Twins Barber shop! The Best Barber shop in Phoenix!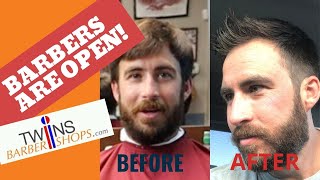 In Episode 18 I take you to Twins Barber shop. Twins Barber shop is one of the best barbers in Phoenix. There is something to be said when you've been in business in the same location for over 20 years and Twins Barber shop has done just that. Family owned and operated, Radi and his family all work in the barber shop. Radi's twin brother, Eddie, operates the second location for Twins Barber shop. Watch Radi freshin' me up for the first time since the coronavirus quarantine began and ended. It feels so good! Twins has been taking all the necessary precautions to keep up a safe and clean hair cut environment.
Twins Barber shop :
For appts call:
*******(602) 375-0150*******
15414 N 19th Ave
Phoenix, AZ 85023
___________________________________________________________________
Camera: Canon M50 : https://amzn.to/3c85l1u
Drone: DJI Mavic Pro: https://amzn.to/2XzpS9Y
***I am an ambassador or affiliate for many of the brands I reference on the channel/video description. As an Amazon Associate, I earn from qualifying purchases.***
To subscribe to Arizona Insider:
Click Here: http://bit.ly/38Bgupv
If you have any questions regarding AZ real estate or being featured on the channel please contact me direct.
chipteetsel@gmail.com
www.allseasonsproperties.com
__________________________________________________________________
Jon's Stock Market (May 2020) update: https://www.youtube.com/watch?v=wVMvstYxW5g
Travek: https://www.youtube.com/watch?v=fvqG7…
J and A Home Improvements: https://www.youtube.com/watch?v=Y5sE9…
Super Shelf Storage: https://www.youtube.com/watch?v=C0_pn…
H.E.L.P. : https://www.youtube.com/watch?v=BfKOq…
Health Markets Insurance Agency: https://www.youtube.com/watch?v=acv6U…
The Links Neighborhood Grill: https://www.youtube.com/watch?v=YGkPT…
BroFit Sports Performance: https://www.youtube.com/watch?v=xgERX…
First Generation Millionaires: https://www.youtube.com/watch?v=vOFa3…
International Minute Press: https://www.youtube.com/watch?v=f7xzH…
Delaney Furniture Auction: https://www.youtube.com/watch?v=jIBqp…
9Round Fitness: https://www.youtube.com/watch?v=6_-KJ…
519 Racing: https://www.youtube.com/watch?v=iiqPl…