Top Phoenix AZ Black Hair Salon Meet the Staff
Top Phoenix AZ Black Hair Salon Meet the Staff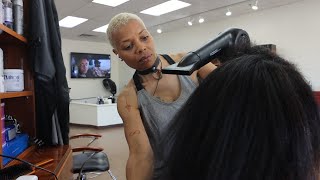 Phoenix AZ Black Hair Salon Specializes In Natural Black Hair. Meet Celebrity Stylist Darya at Chicago's Own DarRiah Naturals Salon. I learned a lot in this vlog about #blackhair and specifically #naturalblackhair which is very big and what makes it even bigger is that we are in #phoenixaz so you must really know what you're doing. This Full Service Black Hair Salon in Phoenix Arizona is bringing a lot of Culture and Expertise to Arizona Hair Care Scene. Hope you enjoy this vlog and even book your next appointment here.
Family Vlogs, Super Tribe https://www.youtube.com/channel/UCXvm-zEogwE_d5NaqaXZ39g
Super Vision Media
P.O. Box 541
1216 S. 111th Drive
Cashion, AZ 85329
Instagram https://www.instagram.com/super_tribe/
Facebook Group https://www.facebook.com/groups/1897691726970661/
Big Super Page https://www.facebook.com/1SuperTribe/
Cash App $ uperVisionMedia
If you want to know what it's like to live in Phoenix, AZ you are in the right place and the only place to learn the Truth. Everything you need and want to know about Phoenix Arizona and surrounding if you are visiting, living in or moving to Arizona or considering living in Arizona.
I've been living in Arizona since 1999. I've lived in Scottsdale, AZ. I've lived in Phoenix, AZ. I've lived in Avondale, AZ. I've live in Goodyear, AZ. I've also worked in the entire valley. I know the entire Maricopa County very well.