TOP 5 How to Cut Your Hair at Home MISTAKES Men Make! (WATCH BEFORE YOU CUT)
TOP 5 How to Cut Your Hair at Home MISTAKES Men Make! (WATCH BEFORE YOU CUT)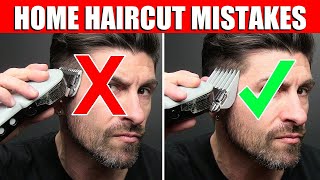 Use code: HOMEHAIRCUT15 for 15% Off https://peteandpedro.com
SALT: https://peteandpedro.com/products/salt
PUTTY: https://peteandpedro.com/products/putty
REBEL EDP: https://peteandpedro.com/products/rebel-cologne
Custom Product Recommendation Tool: https://peteandpedro.com/pages/mens-hair-styling-aid-tool
EASY HOME HAIRCUT Video: https://youtu.be/-ewJDxnYkNU
My Favorite Sunglasses: ENEMY https://enemy.com (use code COOLSHADES15 for 15% Off)
Best Hair Product in The UNIVERSE! http://peteandpedro.com Use Code: ALPHAX10 for 10% OFF Your Order!
Hair Product & Grooming Advice: https://peteandpedro.com/pages/advice
Best Skin Care In The UNIVERSE! https://tiege.com/alpham
All promotion and advertising inquiries: Terry@MENfluential.com
Instagram: https://www.instagram.com/aaronmarino/
Alpha M. App: http://www.alphamapp.com/
FaceBook: https://www.facebook.com/IAmAlphaM
Twitter: https://twitter.com/IAmAlphaM
Instagram: https://www.instagram.com/aaronmarino/
All Things ALPHA M. https://www.alpham.com
ENEMY Eyewear: https://enemy.com
Pete & Pedro: https://www.peteandpedro.com
MENfluential Media: https://www.menfluential.com
MENfluential Conference: https://menfluentialconference.com/
Tiege Hanley: https://tiege.com/alpham
A few weeks ago, Alpha posted a quick and easy at home hair cut tutorial. In this video men's style, grooming, fitness and lifestyle expert, Aaron Marino of IAmAlphaM https://iamalpham.com/ AaronMarino https://aaronmarino.com/ Pete & Pedro https://peteandpedro.com/ Tiege Hanley https://www.tiege.com/and ENEMY https://enemy.com/ is going over common home hair cut mistakes, styling tips to make your home haircut look better, and easy hair styles that look great on anyone.
Common Men's Self Haircut Mistakes
1. Waiting too long to trim — you need to be able to follow your good hair cut to know where to go. Alpha recommends every two weeks to trim your hair (use the quarter inch guard).
2. Too aggressive with the clippers — less is more. You can always go shorter. When using clippers, start with the longest attachment. Go lower progressively. It's all about understanding and utilizing the lengths of the guards. Slow down and don't rush it.
3. Going too high with your clippers — you have 3 zones (crown, neck, transition). Don't go too high into the transition zone. It's all about feathering (up and out).
4. Hard transition line — you want a seamless fade / taper. No matter how much you practice, you will never be as good as your barber / stylist. Alpha describes how to do it optimally with the micro-adjustments and the lever.
5. Edge up your neckline — sometimes it's too boxy or high. Follow the natural growth pattern of your hair.
Hair Styling PRO Tip
1. SALT spray prestyler — spray then let your hair dry
2. Apply Putty (Alpha's choice) and emulsify
Simple & EZ Hairstyle
The classic side part is simple, easy, and starts with finding where your part starts. Alpha demonstrates. You can also push it back a bit for a different variety. Use SALT for a bit more texture and volume. You can also opt for piece-y separation. This style will hide a self hair cut irregularity.