The New Age Hair Styling Tools You Need To Have
The New Age Hair Styling Tools You Need To Have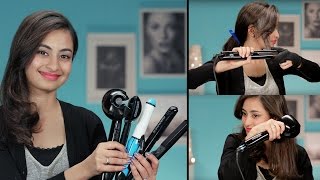 Hair is one such accessory that we wear everywhere so it's quite unavoidable to go without styling it! With the plethora of tools widely available, how does one decide what to buy and how to make styling a much easier process?
In this video, hairstylist Vrinda Jhaveri has shown some really innovative tools and methods of hairstyling that make life a lot easier and help you save a lot of your precious time!
Roots Champion Iron Rs.4000
Babyliss Auto Curler Rs.3500
2 in 1 Hair Iron & Tong Rs. 800
All the hair tools shown in the video can be found online and in stores.
Music Courtesy: http://freemusicarchive.org/music/Redmann/Best_Bytes_Volume_3/05_-_Redmann_-_Tonight_Beat_Doctor_edit​
For more videos, log on to www.glamrs.com.