Short Mens Haircut For Fine Textured Hair | Number 4 Back and Sides
Short Mens Haircut For Fine Textured Hair | Number 4 Back and Sides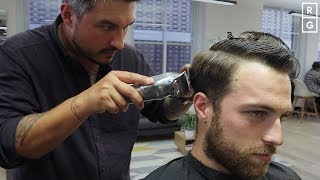 SHOP THE REGAL GENTLEMAN MATTE CLAY
► https://regalgentleman.com/products/regal-gentleman-matte-clay?utm_source=YouTube&utm_medium=Description&utm_campaign=Dan29
ARE YOU A BARBER OR TRAINING TO BE ONE? – For full length tutorials and exclusive content visit our all new Patreon channel (Around 30 mins + bonus footage per episode) –
► http://bit.ly/BarberTutorialsPatreon
SUBSCRIBE –
► https://www.youtube.com/regalgentleman?sub_confirmation=1
WHAT IS THE VIDEO? –
In this video Dan gave Marc a short haircut with a number 4 on the back and sides. Marc had fine hair with lots of natural texture, both wavy and straight. Marc was also concerned about how puffy his hair was on the back and sides.
RELATED VIDEOS –
Textured Crop Blunt Fringe Mens Haircut With Low Skin Fade
►https://youtu.be/WZfRFAvBTsU
Short Textured Quiff Easy To Style Mens Haircut
►https://youtu.be/Pa9slbAv3PU
David Beckham Short 2018 Hairstyle
► https://youtu.be/tRogw0x5D3U
WHO ARE WE?
Regal Gentleman is a men's grooming brand that helps men to become the best they can be. Our vision at Regal Gentleman is to redefine the modern gentleman and help men to become a better version of themselves. We believe that every man has the right to look and feel his best, and when he does he can make a positive impact on the world.
WHERE WERE WE?
Hunter Collective co-working space for freelance barbers and hairstylists in the heart of London, with barber Dan Gregory. Book with Dan here http://bit.ly/DanGregoryHair or find out more about Hunter Collective here http://bit.ly/HunterCollective
FIND US ELSEWHERE –
► Instagram – https://www.instagram.com/_u/regalgentleman
► Facebook – https://www.facebook.com/regalgentleman
► Twitter – https://www.twitter.com/regalgentleman
► Website – https://regalgentleman.com
► Blog – https://regalgentleman.com/blogs/blog
► Pinterest – https://www.pinterest.co.uk/regalgentleman/
MUSIC –

#MensHaircut #RegalGentleman #ShortHaircut