Scunci Hair Tattoos: A Review & Demo – Plus Simple Hairstyle Inspired by Artemisia from The 300
Scunci Hair Tattoos: A Review & Demo – Plus Simple Hairstyle Inspired by Artemisia from The 300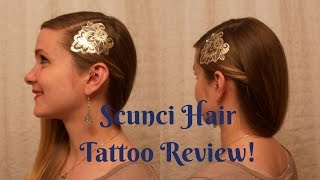 Something not covered in my review was how long the tattoo lasted and its removal:
I put the motif on at 10:30 am and wore it all morning and afternoon. By 5:30 pm in the evening I noticed that one of the edges looked a little loose, like it was slowly pulling free from my hair.
I was actually able to push it back down again with some hairspray and it lasted another few hours!
Normally, I get home from classes at about 11:00pm and it was at this point I noticed that the same edge was loose again. The instructions say that you can remove the tattoos with "oil," however I was curious to see what would happen if I just pulled it off – to my great surprise, it came free from my hair almost as easily as it had gone on. Its sticky, but it didn't pull any of my hair out, nor did it hurt. It was kind of like removing a sticker that had lost some of its tackiness. Really, really easy and painless.
Its my understanding that these cool little tattoos will be available in stores this October! Cheap, fun and just in time for Halloween!
Anyway here's some links!
My website: www.ladollyvita333.com
My instagram: https://instagram.com/ladollyvita333/
My Facebook: https://www.facebook.com/ladollyvita33lovesbraids
Pinterest: http://www.pinterest.com/ladollyvita33/
My first youtube channel: https://www.youtube.com/user/LaDollyVita33
The product featured in the video was sent to me by Scunci – however, the review and opinions are all true! I opened this and tested it out on camera, so you're seeing a pretty honest reaction! I genuinely loved these and can't wait to use them again! These really do suit fantasy/cosplay hairstyles, but as I said in the video, they'd also be great for a holiday party.
Music is royalty free from www.incompetech.com "Odyssey High Quality" by Kevin MacLeod
https://fbit.co/iEU