Salon Visit | Straightening Natural Hair (Type 4 hair)
Salon Visit | Straightening Natural Hair (Type 4 hair)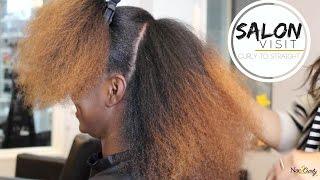 Join Curl Friends Crew and receive my "Top Favorite Natural Hair Products List" Click here, http://www.janaemason.com
——————————————————————-
I haven't had my hair straightened in a while so this is a nice break to have. I had a great salon experience while at En'Fusion Beaute Salon (farmington hills, mi). The services I received was a Silk Wrap. I definitely recommend Ashley H. to y'all if you are in the Metro Detroit area.
To book an appointment with Ashley,
https://book.pocketsuite.io/book/dTBj
Ashley H. Instagram, http://instagram.com/thebeauteguru
—————————————————————–
LIKE | COMMENT | SUBSCRIBE
Leave your questions and comments below!
Save some money!
Snappee Hair Ties
www.snappee.com
Discount code: janae10
Kinky Curly Yaki
www.kinkycurlyyaki.com
Discount Code: Nae2Curly
LET'S CONNECT
www.janaemason.com—Join Mailing List and receive my "Top Favorite Natural Hair Products"
Instagram | @Nae2curly
http://instagram.com/nae2curly/
For business inquiries:
nae2curly@gmail.com
Music, http://www.epidemicsound.com
FTC: not sponsored