River Phoenix Undercut Haircut Tutorial from Indiana Jones – TheSalonGuy
River Phoenix Undercut Haircut Tutorial from Indiana Jones – TheSalonGuy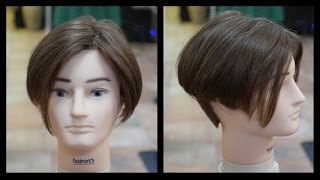 Due to high request, I decided to do the River Phoenix haircut from when he was in the movie "Indiana Jones and the Last Crusade". River Phoenix was ahead of his time with that haircut which actually was an undercut, but referred to as a "mushroom cut" which I did all the time on friends back in the early 90's. It's basically buzzed underneath, not too high up, and then the top hangs over it but is cut one length around the head. Hope you enjoy this one!
New Videos every Tuesday, Thursday & Sunday at 7am EST!
Follow me:
http://www.twitter.com@TheSalonGuy
http://www.instagram.com/TheSalonGuy
http://www.facebook.com/thesalonguy
http://www.thesalonguy.com
SUBSCRIBE: http://goo.gl/aWSkjE
Business email contact: stephen@thesalonguy.com or businessinquiries@collectivedigitalstudio.com
Thanks so much for your interest in my videos and my brand "TheSalonGuy". It means the world to me! Watch celebrity Red Carpet Interviews, Fashion Events, Hair Shows, Celebrities, Motivation, Inspiration, Hair Tutorials, How To's, Education and videos in the Salon and Beauty Industry.
I started TheSalonGuy brand 5 years ago after the passing of my Mother and discovering a role model of mine who has a few books on turning your passion into a business. I have spent the last 20+ years in the salon industry, tech and fashion. I left the industry at some point to become a Fireman and Aux. Police Officer. I did 6 years service and resigned shortly after 9/11.
I have a passion for helping people, educating and motivating. I work with major brands, local businesses and individuals looking to expand and grow.
I am posting videos every Sunday, Tuesday and Thursday at 7am EST. My videos will be focused on celebrity hairstyles, athletes, models, actors, social media stars and event videos.
Mannequin from:
http://www.hairartproducts.com
Email evelia@hairartproducts.com to purchase and mention TheSalonGuy sent you!