REVIEW: WAHL Home Cut Hair Clipper 9243-4724 – Best Pro Hair Trimmer For Home Use
REVIEW: WAHL Home Cut Hair Clipper 9243-4724 – Best Pro Hair Trimmer For Home Use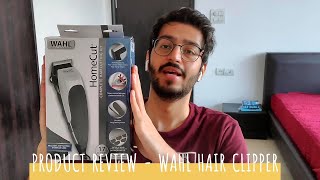 A set of professional hair cutting tools for household use. WAHL boasting a 100 year heritage in manufacturing top class hair clippers, this one is no different.
I did my research, this trimmer is definitely the best one out there to give yourself a slick hair cut.
Stay indoors, stay safe!
Buy on amazon – https://www.amazon.in/gp/product/B00QNOZ7GO/ref=ppx_yo_dt_b_asin_title_o08_s00?ie=UTF8&psc=1
Also, go follow WAHL's YouTube page – https://www.youtube.com/user/wahlpro/videos