Restoration antique hair clipper (Restore it project) | Lovely
Restoration antique hair clipper (Restore it project) | Lovely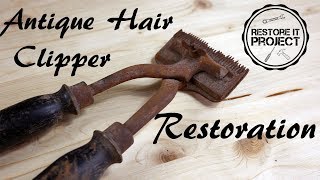 Lovely restoration of an antique, old horse hair clipper. I've bought this quite antique hair clipper at a garage sale and i really wanted to restore it.
This is my third video restoring an old rusty object and then uploading the video on youtube, i'm always learning new skills on how to restore or how to refurbish rusty things and so my next projects might concern as well old rusty tools to be restored and brought back to new life.
Although i'm not a pro i really enjoy doing restoration stuff, restoring objects brings back to new life something which was, usually, extensively used in the past, which has history with it and that's quite fascinating to me!
So i really hope you enjoy this restoration video and like it so i can get some more motivation, so please if you do enjoy it subscribe to the restore it project channel and give me a thumb up!
Any comment welcome and much appreciated!
I've been told from the seller that this antique rusty horse hair clipper is from the beginning of the 20th century (1900 – 1920) and for its age it was in very good shape, nevertheless i decided to give it a light restoration in order to remove some rust and add it to my personal restore it project collection. In the end i'm fairly happy with this restoration.
The seller was also quite happy to know that i was going to restore it and asked me how i was going to refurbish it… if you're watching the video now you know how to restore it 🙂
I'd like to improve and grow my channel by buying better equipment (camera, lights, pc, editing software, tools) so if you enjoyed the videos and feel like donating here is my paypal link https://paypal.me/RestoreItProject
Video shortcuts of the restoration
0:04 Antique horse hair clipper overview
0:47 Antique horse hair clipper disassembly
2:02 Cleaning and degreasing of parts
2:32 Drill press rust brushing (low speed brushing)
3:04 Compressed air power tool rust brushing (high speed brushing)
3:45 Compressed air power tool polishing with scotch brite
3:52 Manual clipper handle sanding (that was painful….)
4:34 Handle sanding on the lathe (that's better :-D)
6:50 Boiled linseed oil application on handle
7:57 Restored tool assembly
8:38 Restoration completed!
Thanks! Restore it project
P.S:: my first two restoration videos linked here below
Restoration of an old scale https://youtu.be/OcDEzFzTivc
Restoration of an old hand held drill https://youtu.be/MHadSPHTea4
For shooting this video i've used my new camera, if you like the video quality and are interested in buying it i'm leaving the amazon link here below. It's an affiliate link so if you decide to buy it i'll get a small commission on that purchase.
Links listed point to different country market place, choose the right one depending where you come from! Thanks!!
USA — https://amzn.to/2BlQCAB
United Kingdom — https://amzn.to/2TqxJ6G
Canada — https://amzn.to/2DQ4wNM
Deutsch — https://amzn.to/2OTG7bp
Français — https://amzn.to/2OVvVzd
Españo l— https://amzn.to/2OTWeWz
Italia — https://amzn.to/2zjrf0Q