Perfect Skin Fade in 6 Minutes | NEW Techniques | Tip #6 | How to Cut Men's Hair
Perfect Skin Fade in 6 Minutes | NEW Techniques | Tip #6 | How to Cut Men's Hair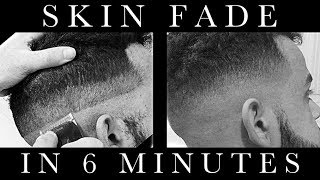 Recommended Clippers: https://www.amazon.com/Premium-Clipper-accessories-multiple-attachments/dp/B08M6FZ57J/ref=sr_1_66?dchild=1&keywords=tips+for+clips+professional+hair+clippers+cordless&qid=1606333382&s=beauty&sr=1-66
YOU WON'T MESS UP this haircut with these easy techniques! Just 6 minutes and you'll learn to give a perfect skin fade. Steps below:
1) Trimmer (zero)
2) Guard #2 closed
3) Guard #1 closed (to create "band")
4) No guards – opened (half)
5) Guard #1 opened (to get rid of upper guide line)
6) No guards – middle lever (quarter)
7) No guards – closed (zero)
8) Trimmer (shorter zero)
9) Shape up
Buy clippers (Andis Speedmaster II pivot motor) here: https://amzn.to/2IKf42H
Buy trimmer (Wahl 5 Star Razor Edger) here: https://amzn.to/2IxkkY6
SUBSCRIBE—much more to come!