Perfect Fade in 4 Minutes | How to Cut Men's Hair | Best Tutorial | Tip #2
Perfect Fade in 4 Minutes | How to Cut Men's Hair | Best Tutorial | Tip #2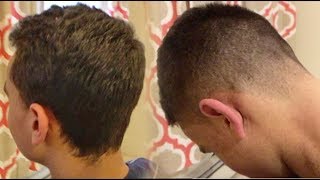 Recommended Clippers: https://www.amazon.com/Premium-Clipper-accessories-multiple-attachments/dp/B08M6FZ57J/ref=sr_1_66?dchild=1&keywords=tips+for+clips+professional+hair+clippers+cordless&qid=1606333382&s=beauty&sr=1-66
Learn to give a fade in just 4 minutes! All the tips you need to give ANY HAIRCUT, ANY LENGTH, ANY STYLE.
Steps for this video:
1) Guard #1 closed (short)
2) Guard #3 closed (short)
3) Guard #2 closed (short)
4) Guard #1 opened (long)
5) No guard opened (long) at the bottom
Recommended Clippers: https://www.tipsforclipshair.com/store-1/clippers
Clippers used here (Andis Speedmaster II pivot motor): https://amzn.to/2IKf42H
Trimmer used here (Wahl 5 Star Razor Edger): https://amzn.to/2IxkkY6
Check out some more intricate haircuts on my channel, and SUBSCRIBE!