Passive Marketing vs Active Marketing For Hairstylists
Passive Marketing vs Active Marketing For Hairstylists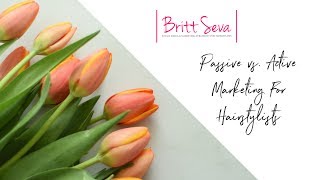 JOIN MY FREE BUSINESS BUILDING COMMUNITY FOR HAIRSTYLISTS:
https://www.facebook.com/groups/hairstylistbusinessbuilding/
Hair Stylist Business Building-Passive Marketing vs Active Marketing For Hairstylists
In this video, Britt Seva breaks down passive marketing vs active marketing for hairstylists. Start phasing out these 5 marketing techniques in exchange for three that actually work to grow your clientele without breaking the bank!
Follow me on Facebook for more weekly business building lessons:
https://www.facebook.com/brittseva/
JOIN MY FREE BUSINESS BUILDING COMMUNITY FOR HAIRSTYLISTS:
https://www.facebook.com/groups/hairstylistbusinessbuilding/
I have more great business building tips on my blog at www.brittseva.com
Remember to subscribe to my channel on Youtube for weekly business building tips and strategies!
===========================================
**Click Below to download my free business building guides For Hairstylists:
www.brittseva.com/youtube
=======================================
Britt Seva
Hair Stylist Business Coach
http://www.brittseva.com
Facebook: http://www.Facebook.com/brittseva
TAKE MY FREE ONLINE WEBSITE BUILDING CLASS FOR HAIRSTYLISTS: http://www.brittseva.com/websiteclass
=======================================
NEXT VIDEO:The 4 Big Missed Money Making Opportunities
It has never been easier to grow a clientele as a hairstylist! Check out my blog at www.brittseva.com for weekly business building tips & strategies
Find out more about Britt
at http://www.brittseva.com
www.instagram.com/brittseva