My First Haircut in 5 Months | South Austin Barber Shop
My First Haircut in 5 Months | South Austin Barber Shop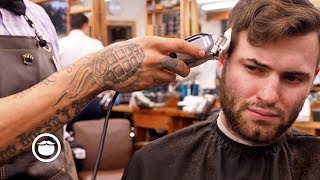 Shop Beardbrand: https://bdbd.us/2RXsKJc
Instagram: https://www.instagram.com/beardbrand
Twitter: https://www.twitter.com/beardbrand
DESCRIPTION
Jack Milocco visits South Austin Barber Shop where Ricky Hernandez gives Jack his first haircut since June of 2018.
RECOMMENDED VIDEOS
From Dopey to Dope: My First Fade
Insane Long Hair Transformation
From Messy Surfer to Handsome Rogue Haircut
ABOUT BEARDBRAND
Beardbrand is a men's grooming company that is helping men keep on growing by providing education and tools for urban beardsmen to master their morning routine. We've found that confidence starts with self investment, and allows men to do great things for their families, co-workers, and community. We are working to break down the negative stereotypes that surround bearded men, and show the world it's the man who matters, not the way he looks.
BEARDBRAND SOCIAL MEDIA
https://www.instagram.com/beardbrand
https://www.facebook.com/beardbrand
Tweets by beardbrand
BARBERSHOP INFORMATION
South Austin Barber Shop
607 W Stassney Ln, Austin, TX 78745
SUBSCRIBE TO OUR CHANNEL
https://www.youtube.com/beardbrand?sub_confirmation=1
CONTRIBUTE TO THE CHANNEL
http://www.youtube.com/timedtext_cs_panel?c=UCm0f2zUj2eSEKfH8IpyHV3Q&tab=2