My Curly Hair Experience at Salon 718
My Curly Hair Experience at Salon 718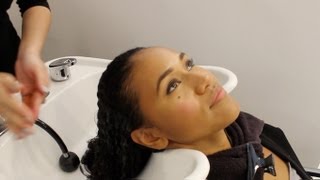 Here's a video sharing my hair salon experience for the first time in 5 years! I got my curly hair treated and styled at Salon 718 in Brooklyn, New York. They were lovely enough to let me film using my gear available on my Amazon store: http://bit.ly/Mayatechstore
In the past I only went to salons in Toronto to get my hair blown out straight so this really was a first experience for me 🙂
———–
WATCH MY CURLY HAIR PLAYLIST HERE:
http://bit.ly/1ll5C39
———-
So why go to a salon now? I had a mullet AND my hair was matting! It was awful! I think the seasonal change in weather really messed my hair up this time. So my dear friend Miss Andrea Lewis (aka Hazel from Degrassi) took me to Salon 718. I got my hair deep conditioned and trimmed. That's what you call a friend! Oh AND they even give you a head massage! I'm easily impressed especially when it comes to massages. In terms of products they used the Moroccan Oil line on me so this is also a bit of a review. I absolutely love their Intense Hydration Mask. Over a week later and my hair is mat free and healthy! Now that along with their Curl Moose and the Moroccan Oil Treatment I will buy. It's pricey and I'm super cheap so I will only use this on "special occasions". hahaha. Keep in mind though my hair texture. This line may or may not be for you. I forgot the joys of going to a salon. I'm so used to doing everything myself it's a nice treat to hook yourself and your hair up!
And on that note, the lovely Michaela, owner and stylist of Salon 718 is offering you NYer's and Brooklynites a #shamless special 🙂 Mention #shamelessmaya and save 10% off any product (except extensions) and 20% off any service (except keratin treatments and extensions).
Salon 718 is located on:
80 Dekalb Ave, Brooklyn
NY, 11205
(718) 623-6153
Special thanks to Salon 718:

http://www.facebook.com/salon718
twitter: @salon718
instagram: salon718
Special thanks to my homie Andrea Lewis:
YouTube.com/ThoseGirlsAreWild
twitter: @missandrealewis
instagram: andrealewis
Music by: Brandon
twitter: @eyelovebrandon

instagram: eyelovebrandon
http://ilovebrandon.net
———
GET TO KNOW ME
http://instagram.com/mayasworld
Tweets by mayasworld
https://www.facebook.com/shamelessmaya
——–
GEEK INFO
All my gear can be purchased on my Amazon store: http://bit.ly/Mayatechstore
Camera: Canon 7D Mark lll http://amzn.to/2mNQV1L
Audio: Built-in Mic
Editing: Final Cut Pro X
Filmed Andrea Lewis & Your Shamelessness and edited by me too 🙂
Amazon store is an affiliate link which means I get a % if you drop coints.
———-
About Shameless Maya
"What would happen if I shamelessly promoted myself for 365 days?" My channel started out as a social media experiment, and now it's a lifestyle. I hope my journey from shame to shameless inspires you and others not to be ashamed of who you are and to share and celebrate that shamelessly. Here on my channel, you'll find videos on lifestyle, inspiration, fun transformations, techie vids for aspiring geeks, beauty, fashion, and so much more.
—