Medium Length Easy To Style Men's Hairstyle With Clipper Over Comb
Medium Length Easy To Style Men's Hairstyle With Clipper Over Comb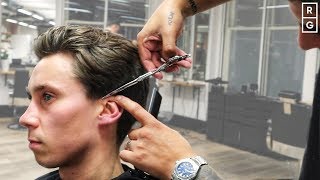 💈✂️ REGAL GENTLEMAN BARBER EDUCATION
Education for barbers, stylists, hairdressers and anyone interested in cutting men's hair. Become a Founding Member (Free Forever)
► https://www.regalgentlemaneducation.com
SHOP THE REGAL GENTLEMAN MATTE CLAY
► https://regalgentleman.com/products/regal-gentleman-matte-clay?utm_source=YouTube&utm_medium=Description&utm_campaign=Dan34
FIRST ACCESS TO THE REGAL GENTLEMAN SALT SPRAY (Used in the video) –
► https://mailchi.mp/regalgentleman.com/seasaltsprayprelaunch?utm_source=YouTube&utm_medium=Description&utm_campaign=Dan34
WHAT IS THE VIDEO? –
Dan shows Steven how to achieve a medium length men's haircut that is easy to style at home using clipper over comb on the back and sides.
SUBSCRIBE –
► https://www.youtube.com/regalgentleman?sub_confirmation=1
RELATED VIDEOS –
Textured Crop Blunt Fringe Mens Haircut With Low Skin Fade
►https://youtu.be/WZfRFAvBTsU
Short Textured Quiff Easy To Style Mens Haircut
►https://youtu.be/Pa9slbAv3PU
David Beckham Short 2018 Hairstyle
► https://youtu.be/tRogw0x5D3U
WHO ARE WE?
Regal Gentleman is a men's grooming brand that helps men to become the best they can be. Our vision at Regal Gentleman is to redefine the modern gentleman and help men to become a better version of themselves. We believe that every man has the right to look and feel his best, and when he does he can make a positive impact on the world.
WHERE WERE WE?
Hunter Collective co-working space for freelance barbers and hairstylists in the heart of London, with barber Dan Gregory. Book with Dan here http://bit.ly/DanGregoryHair or find out more about Hunter Collective here http://bit.ly/HunterCollective
FIND US ELSEWHERE –
► Instagram – https://www.instagram.com/_u/regalgentleman
► Facebook – https://www.facebook.com/regalgentleman
► Twitter – https://www.twitter.com/regalgentleman
► Website – https://regalgentleman.com
► Blog – https://regalgentleman.com/blogs/blog
► Pinterest – https://www.pinterest.co.uk/regalgentleman/
MUSIC –

IMAGE CREDIT (@badiu.photography) –
http://bit.ly/BadiuPhotography
#MensHaircut #MediumLengthHaircut #MensHair