JUMBO BRAID GONE WRONG!!! HAIRSTYLISTS HORROR PHOTOS
JUMBO BRAID GONE WRONG!!! HAIRSTYLISTS HORROR PHOTOS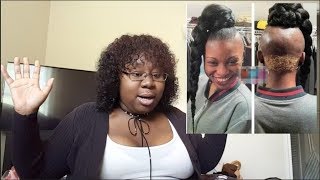 INTRO SONG ⇢ Chris Brown – Pills & Automobiles
SHOP SLAYAUNDRA'S BOUTIQUE
MERCH ⇢ https://teespring.com/stores/slayaundras-boutique
WANT TO EARN CASH BACK EVERY TIME YOU SWIPE YOUR CARD? USE THE DO$H APP ⇢ https://link.dosh.cash/FSIVOPXgNL
DO YOU LIKE ORDERING FOOD ONLINE? GET $15.00 OFF YOUR NEXT ORDER WITH THE DOOR DASH APP ⇢ http://drd.sh/Fx3aOR/
FOR BUSINESS INQUIRIES:
BUSINESS EMAIL ONLY! ⇢ chamilliema@gmail.com
*PLEASE DO NOT USE THIS EMAIL TO ASK ME ABOUT BOOKING AN APPOINTMENT OR PRICES, I ONLY HANDLE HAIR BUSINESS THROUGH MY WEBSITE WHICH IS LISTED BELOW!!!
TO SCHEDULE A HAIR APPOINTMENT WITH ME, VISIT MY BOOKING WEBSITE! ⇢ https://slayaundrastylez.glossgenius.com
LOCATION:
KANSAS CITY, MISSOURI
ARE YOU A HAIRSTYLIST, MAKEUP ARTIST, OR NAIL TECH IN NEED OF A BOOKING WEBSITE? SIGN UP HERE ⇢ https://glossgenius.com/invite/slayaundrastylez
SOCIAL MEDIA:
YOUTUBE (MY ONLY CHANNEL) ⇢ https://www.youtube.com/user/ceeohbaby2
INSTAGRAM ⇢ https://www.instagram.com/slayaundrastylez/
SNAPCHAT ⇢ @ceeohbaby
LIKE THE MUSIC I USE IN MY VLOGS? GO FOLLOW MY FRIEND AyEl's SOUNDCLOUD & SOCIAL MEDIA! HE'S A DOPE A$$ KANSAS RAPPER / ENTREPRENEUR!
SOUNDCLOUD ⇢ https://soundcloud.com/adotleapheart
YOUTUBE ⇢ https://www.youtube.com/channel/UCSgtmLYGVXXMhxti1TdF_NQ
INSTAGRAM ⇢ @ayel_music
TWITTER ⇢ @ayel_music