I Wore Bangs For a Week…Hairstyles for Bangs – Kayley Melissa
I Wore Bangs For a Week…Hairstyles for Bangs – Kayley Melissa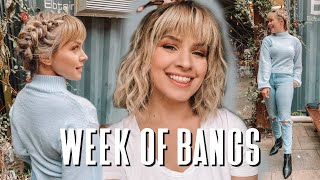 Sooo I wore bangs for a week and it was SO CRAZY! This video has 6 hairstyles for bangs on short hair and long hair to give all your girls out there with bangs some much needed inspo! Some of these cute hairstyles with bangs actually ended up being os much fun to wear and some didn't last the entire day.. Let me know in the comments below which hairstyle was your favorite! Also where are my gals rocking that bang life?? Sound off in the comments!
Keep your hair game strong, subscribe! → http://bit.ly/2p3RSRk
MY SHOWER CAP & KIT: http://bit.ly/KMShowerCap
—⟣ Product Used ⟢—
The Hair Shop V Bang Clip: https://www.thehairshop.com/v-bang/
The Hair Shop The Bang: https://www.thehairshop.com/the-bang/
Flat Iron – Kristin Ess 1" curling iron: https://shopstyle.it/l/8WFU
—⟣Follow and Chat with me at:⟢—
❈ Instagram: KayleyMelissa
❈ Twitter: @kayleymelissa
❈ For business inquiries: kayleymelissa@mattermediagroup.com
—⟣Mailing Address:⟢—
Kayley Melissa
4441-106 Six Forks Rd #165
Raleigh, NC 27609
FTC: This Video is not sponsored. The links above are affiliate links, which means I make a small commission if you purchase through the link.