I Tried Amazon Haircutting Scissors Kit, Thinning Shears vs Kasho Professional Shears | Home Haircut
I Tried Amazon Haircutting Scissors Kit, Thinning Shears vs Kasho Professional Shears | Home Haircut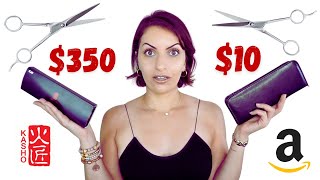 Hi guys! In this video I do a comparison between an Amazon haircutting scissors pack that cost me $10 US and my professional Japanese Kasho Shears that cost $350 US.
I wish I had a more entertaining and in-depth video for you, but I'm so used to using my professional haircutting shears that it's pretty much impossible to go lower in quality and not notice a massive difference.
I hope you find this video educational and helpful if you are a hair student, hair enthusiast or you cut your hair at home!
Let me know if you've bought haircutting shears off Amazon and what did you think!
::::::::::::::::::::::::::::::::::::::::::::
// SHOP HERE: www.amazon.ca/shop/linawaledhair
// GET MY ONLINE HAIR COURSE: https://linawaled.com/thescienceofhair
// JOIN MY PRIVATE FACEBOOK GROUP: https://www.facebook.com/groups/classesbylina/
// INSTAGRAM: https://www.instagram.com/linadoeshair/
// WEBSITE: https://linawaled.com/
// PODCAST
Spotify: https://open.spotify.com/show/3IiBkJVEQkq0jPaDVrYbNY
Apple: https://podcasts.apple.com/ca/podcast/hairlife-with-lina-waled/id1537522554
// BUSINESS INQUIRIES: Lina@LinaWaled.com
::::::::::::::::::::::::::::::::::::::::::::
// PRODUCTS MENTIONED
https://amzn.to/2Sm4qpP
::::::::::::::::::::::::::::::::::::::::::::
// MY SETUP //
CAMERA
US: https://amzn.to/3sUsX1M
Canada: https://amzn.to/3eu1qzd
LAV MIC
US: https://amzn.to/3xqZn7t
Canada: https://amzn.to/2R0xHpd
BLUE YETI MIC
US: https://amzn.to/3gDGpoj
Canada: https://amzn.to/3gBYEdK
SOFTBOXES
US: https://amzn.to/3xkpXiG
Canada: https://amzn.to/3sRmbd2
RING LIGHT
US: https://amzn.to/3aDVYZe
Canada: https://amzn.to/3aDptdD
#haircutting #productreview #amazonhair