I Dyed My Hair Burgundy Red & Got Bangs | Hair Me Out | Refinery29
I Dyed My Hair Burgundy Red & Got Bangs | Hair Me Out | Refinery29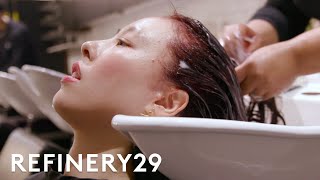 On this episode of Hair Me Out, we follow a woman to the salon as she prepares to get a hair transformation. She dyed her brunette hair auburn red and gets bangs. Watch this week's Hair Me Out to see her transformation happen!
This installment of Hair Me Out was filmed prior to the salon closures enforced to limit the spread of COVID-19.
Looking for ways to support your local hair salon during this difficult time? We've rounded up some suggestions: https://r29.co/2XB9qrm
ABOUT SERIES
Hair Me Out is a dramatic hair transformation series that documents the process of hair styling from start to finish. No matter who you are or your skill level, you'll find something that will inspire you. Hair Me Out provides an inside the salon style look at epic hair changes from before to after!
ABOUT REFINERY29
Refinery29 is a modern woman's destination for how to live a stylish, well-rounded life. http://refinery29.com/
RELATED CONTENT
I Bleached My Virgin Brunette Hair Icy Blonde
I Bleached My Virgin Hair Platinum Blonde
I Bleached My Virgin Black Hair & Dyed It Red
SUBSCRIBE TO REFINERY29
Subscribe to the Refinery29 channel: http://bit.ly/subscribe-to-r29
Follow Spoke & Weal on Instagram: https://instagram.com/spokeandweal/
Follow Michelle on Instagram: https://instagram.com/michelle.lin/
Follow Refinery29 on Instagram: https://instagram.com/refinery29/
Follow Somos on Instagram: https://instagram.com/r29somos/
Follow Unbothered on Instagram: https://instagram.com/r29unbothered/