How To Scissor Over Comb (The Mayfair Barber) Foss Academy
How To Scissor Over Comb (The Mayfair Barber) Foss Academy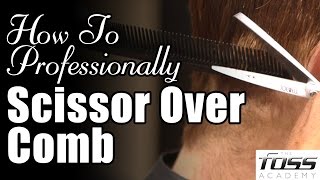 How to scissor over comb – A part of 'The Mayfair Barber Series' brought to you by the Foss Academy of Mayfair and Chris Foster – visit www.fossacademy.co.uk
On this video we will focus on refinement and crosschecking with a scissor overcomb method of cutting.
Share this video http://youtu.be/6xcvqYicDAM
Subscribe to my channel to get elite barbering education
This video is a part of the Foss Academy fundamental barbering course.
Discover the essential techniques and approaches needed to get you started in the world of men's hairdressing. 'Fundamental Barbering' is the perfect way to unlock your potential and develop your professional barbering skills. It provides a platform of essential knowledge and techniques from which to launch into barbering. Save time and money by getting those fundamental skills 'right first time' under the expert tuition of educator and stylist, Chris Foster. Throughout the course you will have access to his experience and technical excellence which is combined to act as a springboard from which to build your confidence, competence and creativity.
on this video you will learn
Introduction to the context of men's hairdressing
• Assessing head shapes & hair types
• Standardised approach to sectioning
clipper over comb
• Scissor over comb
• Efficient use of all core tools – clipper, open razor and scissors
• Finishing techniques
Our website www.fossacademy.co.uk
Get social:
Facebook https://www.facebook.com/pages/Foss-Academy/368953416577447?ref=hl
Twitter https://twitter.com/thefossacademy
Instagram http://instagram.com/hairbychrisfoster
About the Foss Academy of Mayfair
Our award-winning education philosophy comes directly from the finest 5 star grooming emporiums in London Mayfair & Knightsbridge. Barbering education of the highest standard. We are the Academy for the master barber.
The Foss Academy philosophy is founded upon delivering excellence in every standpoint. From the traditional aspects of barbering through to the highly creative elements of men's hairdressing. A philosophy that produces a fully skilled men's hair stylist. The Foss Academy speaks of a diversity of cultures where each hairstyle acts as a testament to creative energy. This design philosophy has always been to question conventions through consistent innovation and refinement. It incorporates the time-proven skills of traditional barbering with a modern creative flair that captures the essence of contemporary style trends.
This result is an approach that values the highest levels of technical excellence, coupled with a design innovation and stylistic sensitivity that has been sought after by the industry's leading brands to promote their products and services.
The Foss Academy App for iPhone, iPad and iPod Touch is a ground breaking revolutionary training and education tool for elite hair professionals, produced by the award-winning hair stylist Chris Foster. Nominated 'Innovation of the Year' British Hairdressing Business Awards 2013.
The App is 'the Foss Academy to go', providing core and advanced video training tutorials covering the fundamentals of barbering, professional wet shaving, creative cutting techniques and razor hair design.
Key Features:The Foss Academy App features four Training Channels containing 25 high-definition tutorial videos and step-by-step photographic walkthroughs.
Barbering: The Barbering Training Channel covers the Fundamentals of barbering techniques, including Clipper Over Comb, Layering, Scissor Over Comb and Clipper Combs.
The Necklines section in this channel provides detailed guidelines for achieving professional tapered neckline finishes.
This channel also features Chris Foster's Sideburns cutting techniques.
Cutting: The Cutting Training Channel covers three core aspects of cutting: Razor, Scissor and Clipper. In each cutting section, Chris Foster takes you through detailed video tutorials covering Collapse Texturing, Bulk Reduction, Support Structure, Silhouette Finishing, and many more.
Design: The Design Training Channel features in-depth step-by-step tutorial videos of Chris Foster's trademark creative razor hair designs, with guides to both Pictorial Design and Line Design work.
Shaving: Chris Foster's renowned and coveted wet-shaving skills have been showcased on national television. The Shaving Training Channel provides a comprehensive photographic tutorial on the art of wet shaving.In addition to the four Training Channels, The Foss Academy App features 11 inspirational Galleries showcasing Chris Foster's creative work.
To download click this link https://itunes.apple.com/gb/app/the-foss-academy/id651595249?mt=8#
Thank you for watching the Mayfair Barber Series by the Foss Academy please leave a comment we would love to hear from you.