How To Find The Best Curly Hair Salon In Your City! #DevaCut| BiancaReneeToday
How To Find The Best Curly Hair Salon In Your City! #DevaCut| BiancaReneeToday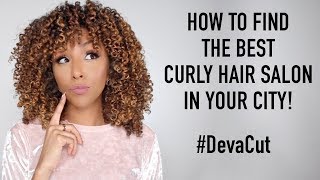 If you are looking for a hair salon with stylists that specialize in curly haircuts, this is what you should look for!
DevaCurl Stylist Search:
https://www.devacurl.com/salon-stylist-search.html
My personal Curly Haircut playlist:
https://bit.ly/2FNVWQa
Hair Salons I recommend:
CA- BEVERLY HILLS
Curls One On One : Donatela for Cuts, Ezzy for Color
CA- LONG BEACH
Hair by Philesha Aalise
NY – Devachaun Salons
NEW JERSEY- Utopia Salon
Fort Meyers Florida- Hair by Maritza
TN – NASHVILLE- Juel Salon
Follow me on IG, Snapchat & Twitter for DAILY beauty tips @MzBiancaRenee!
Please LIKE and SUBSCRIBE for more videos! FOUNDATION REVIEWS every FRIDAY at 9am PST and Curly Hair/ Beauty videos every Sunday at 6AM PST.
Follow me on SNAPCHAT
@MzBiancaRenee
Follow me on INSTAGRAM
www.instagram.com/MzBiancaRenee
Follow me on TWITTER
www.twitter.com/BiancaReneeToday
Business Inquires please email
BiancaReneeToday@gmail.com