How To Find A Professional Natural Hair Stylist – Natural Hair Salon
How To Find A Professional Natural Hair Stylist – Natural Hair Salon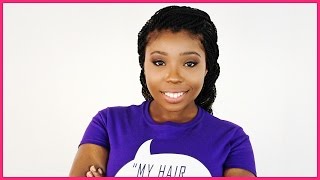 Free Giveaways & Weekly Updates By Email! http://eepurl.com/Am3Kb
Buy My Books, DVDs, and T-Shirts at http://www.howtoblackhairstore.com
My Website: http://www.howtoblackhair.com
Twitter: http://www.twitter.com/BreannaRutter
Facebook: https://www.facebook.com/OfficialBreannaRutter
Instagram: http://www.instagram.com/breannarutter
Google +: bit.ly/15gNK3M
Got Hair Questions? Email Me!
YourHairQuestions@gmail.com
Email for Business Inquiries
howtoblackhair.breannarutter@gmail.com
Yolanda is scared to go natural without a hairstylist because she would need to go to a trusted stylist weekly but how does she find a reputable hair salon? She wants some advice on how to choose a hairstylist for natural hair.
Hair Tip #1 Research Online for Reviewed Natural Hair Salons You Can Travel To
Research to find local hair salons or salons that you are willing to travel to and choose one that predominately cater to natural hair care. There are plenty of natural hair salons all around the world and specifically in the U.S., you should be able to find natural hair salons in popular cities like Houston, Chicago, Atlanta and New York City without a problem. After finding a hair salon that specializing in natural hair styling, consult with some of their stylists who can potentially tailor best to your specific hair needs.
Hair Tip #2 Consult with someone who specialized in Natural Hairstyling
Finding a natural hair stylist that is best for you will take you being very open and honest about what your natural hair has been through and the plans that you have for your natural hair. Letting your stylist know whether your hair was professionally colored or box colored for example can be the difference between a great natural hair color treatment and a disaster! Honesty is key from both you and your hair stylist if you want to have a great experience as well as a great professional relationship with your stylist for many visits to come!
Hair Tip #3 Express Your Goals such as Heat Usage, Coloring, Length, and Styling Options
Do you plan on heat straightening certain times during the year? Do you have length goals? Are you willing to protective style for those goals? Are you ready for color? Know exactly how you want to begin your natural hair journey and express this to your stylist because depending on your needs and the health state of your hair, they will provide the service that is best for your desires and the health of your hair. When deciding on which stylist is best for your, go with one that you feel 100% comfortable with, go with one that thoroughly listens to and understand your hair desires, and always be transparent with what you want and don't want to avoid any disappointing salon visits.
Good Luck!
Thanks For Watching!
DISCLAIMER: All suggestions, tips, prizes, techniques and advice given are for informational purposes only and should be used at your discretion and best judgment. I highly recommend conducting strand tests when trying or using new products, hair appliances and product mixes. I am not responsible or liable for adverse or undesirable effects including hair loss, hair breakage or other hair/scalp/skin/body damage as a direct or indirect result of the suggestions, tips, prizes, techniques and/or advice given.
________________________________________
FTC: I am not representing, being paid by, or endorsing any of the product brands in this video & I purchased everything with my own money – UNLESS OTHERWISE STATED in video/blog content. There are links to products that might be helpful based on the content of this video/blog. Each of your purchases via our Amazon affiliate links supports our cause at no additional cost to you.
Music Used
Isolated Kevin MacLeod
Incompetech.com