How I CUT and LAYER my OWN hair PERFECT for VINTAGE styles – Fitfully Vintage
How I CUT and LAYER my OWN hair PERFECT for VINTAGE styles – Fitfully Vintage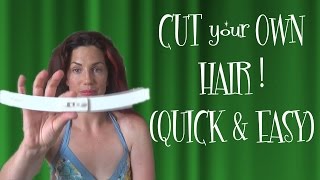 I've been cutting my own hair for YEARS.It sure is a learning process. In the past I used to veer from getting it spot on to looking a right mess. Now My hair cuts and trims are consistently good all thanks to a clever but super simple little gadget called the 'creaclip'. I HAVE NOT RECEIVED PAYMENT or this video. I bought this creaclip with my own money many moons ago now and think it is splendid so I want to share it with you.
If you would like your own creaclip ( which is a brand name) or any other generic version then please visit http://creaproducts.co.uk/ or http://www.amazon.com/CreaClip-C-01/dp/B004NMR6TY
http://www.amazon.co.uk/s/ref=nb_sb_noss?url=search-alias%3Daps&field-keywords=hair+cutting+clip
Hair isn't the most important thing in the world but, sometimes knowing you have a super cool 'do' can make you smile and that can only be a good thing right?
Welcome to Vintagious, here, in my own litttle corner of Youtube I will show you how to create beautiful hairstyles from all eras. Sure, my main focus is on simple vintage hairstyling but I also love easy modern styles.
I don't have a favourite era, it changes all the time. One day it'll be Edwardian hairstyles that I'm all over, the next, pinup girl hair, the next I'll be all about Greek Goddesses and their crazy Barnets! I just love it all!
I do hope that you enjoy my videos and that you can learn something from them, even just a tiny bit – and even if you learn nothing I hope that they make you smile.
http://www.youtube.com/watch?v=OV0jFweiHuY