HAIRIZONA VLOG: GETTING MY HAIR/EXTENSIONS DONE | Stephanie Ledda
HAIRIZONA VLOG: GETTING MY HAIR/EXTENSIONS DONE | Stephanie Ledda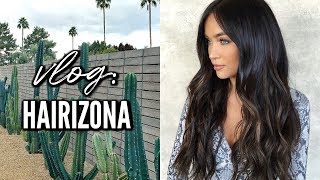 Hi guys! Come along with me on my super quick trip to Arizona to get my hair and extensions done again by the amazing Chrissy at Habit Salon!
I stayed at the Andaz Scottsdale Resort, would highly recommend!
http://www.andazscottsdale.com/
Check out the video from when I first got my extensions put in!
CHRISSY'S INSTAGRAM
https://www.instagram.com/hairby_chrissy
HABIT SALON
HAIR COLOR INFO
ROOTS: Redken 5n/6n
THE REST: Toned with 9n/9a
CURLING IRON THEY USE
http://bit.ly/2TJduQZ (1.5″)
WHAT I'M WEARING:
SUNGLASSES http://bit.ly/2RtVb1z
CAMO CARDIGAN http://bit.ly/2TMbWWx
SNEAKERS TJMAXX (in store!) found them here: http://bit.ly/2D4AGUm + similar here: http://bit.ly/2TDA0L8
POLKA DOT TOP http://bit.ly/2D59uVi
RIPPED BLUE JEANS http://bit.ly/2D4hTZ8 + http://bit.ly/2D4hTbA
WHITE SLIP ON LOAFERS http://bit.ly/2D4KYUE
SNAKE BODYSUIT http://bit.ly/2M3otlN
DARK GREY JEANS similar http://bit.ly/2CuBLEN + http://bit.ly/2T2Cm5R
NUDE PUMPS http://bit.ly/2D35h4G
INITIAL NECKLACE http://bit.ly/2D3IuG3
SUITCASE https://rstyle.me/~cz-aLq9o
NAILS: ANC ICY PINK
MAKEUP PRODUCTS USED
(very similar tutorial here: https://www.youtube.com/watch?v=PC0Pn_KxlC4)
DIOR BACKSTAGE FOUNDATION: 4WO
http://bit.ly/2SS1WdF
TOO FACED MULTI USE SCULPTING CONCEALER GOLDEN BEIGE
http://bit.ly/2COcmWC
ILIA SOFT FOCUS POWDER
http://bit.ly/2D6I7dJ
PHYSICIANS FORMULA DEEP BUTTER BRONZER
http://bit.ly/2ToZqvV
CHARLOTTE TILBURY CLIMAX BLUSH
http://bit.ly/2PSdxfL
MAYBELLINE MOLTEN GOLD
http://bit.ly/2TsZtqx
URBAN DECAY 24/7 LINERS (ZERO)
http://bit.ly/2TpiWIE
ABH NORVINA PALETTE
http://bit.ly/2COd46e
COVERGIRL EXHIBITIONIST MASCARA
http://bit.ly/2D5OyOg
NARS HYERES LIP LINER
http://bit.ly/2TMHKul
TARTE SIESTA LIPSTICK
http://bit.ly/2TrgCRg