Fringe Cutting Tool Demo and Review
Fringe Cutting Tool Demo and Review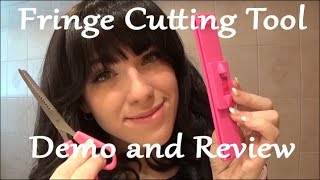 In this video, I attempt to cut the bangs of two of my wigs with a fringe cutting tool and thinning shears. Will it work? Watch this to hear my impressions, feel my struggle, and laugh a bit along the way!
Is this a tool you own, have used, or wish to buy someday? Leave your impressions and comments down below!
Please like and subscribe to support my channel!
Want to catch up with me? Follow me on Tumblr (kanonique.tumblr.com) and on Instagram (@kanonique) for Lolita coords, food snaps, selfies, and much more!
Wigs used (in order):
Lockshop Wigs Sweetheart Dark Brown
Lockshop Wigs Sweetheart Natural Black
Fringe Cutting Tool Kit (clip and thinning shears) by HairTools (a Korean company), bought on Ebay and shipped from China.
Song used: Blue Skies – Silent Partner (Youtube Audio Library)