Ember Retreat Vlog | Business Retreat for Hairstylists (Next level hair education!)
Ember Retreat Vlog | Business Retreat for Hairstylists (Next level hair education!)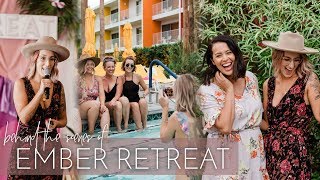 You're probably wondering, what the heck is Ember Retreat?! It's a 3 day all inclusive business experience for boss babes in the hair community who want to grow, connect, and relax with other like-minded entrepreneurs!
I created Ember Retreat with my partner Piper DeYoung (https://www.instagram.com/piperdeyoung) and this was our second retreat! We had such amazing speakers such as Dawn Bradley (@dawnbradleyhair), Ash Fortis (@xostylistxo), Dianna Bautista (@shearloveinternational), Allie Liliokalani (@alliedoeshair), Mirella Manelli (@mirellamanelli), and Alexsis Mae (@alexsismae).
We're in the process of planning the next retreat, so if you're a hairstylist and are looking to take your business to the next level, check out https://www.emberretreat.com and make sure to get on the waitlist!
Last time, the tickets sold out in 3 days, so if you want to come make sure to get on that waitlist so you'll be the first to know any details about the next retreat! We'd love to have you at the next one!
————
IF YOU LIKE THIS VIDEO, come over to Instagram and let me know! I'd love to hear your favorite thing about this video! https://www.instagram.com/jamiedanahairstylist
————
If you want to see a list of my favorite products (like the brushes I use for my balayage) check out my Amazon shop to purchase: https://www.jamiedana.com/amazon
————
Are you a hairstylist who wants to get more followers and ultimately more clients in your chair? I have a workbook I created just for you that takes away the confusion of using hashtags on Instagram!
➵ Download my FREE Hashtag How To Guide for Hairstylists: https://www.jamiedana.com/hashtagworkbook