Easy Sleek Bun on Short 4C Natural Hair Tutorial | African Threading
Easy Sleek Bun on Short 4C Natural Hair Tutorial | African Threading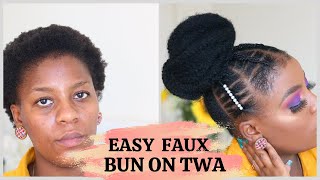 Sleek bun on short natural hair with the African threaded front. African threading updo bun on short 4c hair.
Easy natural hairstyles for short 4c hair.
Products Used:
Isoplus edge control gel
Darling South Africa Markey Kinky Braid
Ecostyler gel
CONNECT WITH ME:
Instagram: @miriam.maulana
snapchat: miriam_mich
Facebook: Miriam Maulana
twitter: @MiriamMaulana
B U S I N E S S:
For business inquiries please contact: hello@newkidontheblock.co.za
My content is 100% not influenced by brands, PR products received, usage of affiliate links, or brand partnerships.
Debunking Western standards of beauty and embracing who we are and our magnificence Be your own kind of beautiful. Be brazen about loving yourself.