DIY Home Haircut – How To Cut Your Own Hair – Philips Norelco Multigroom 7000 – MG7750
DIY Home Haircut – How To Cut Your Own Hair – Philips Norelco Multigroom 7000 – MG7750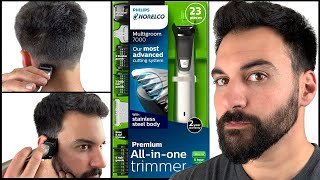 DIY Home Haircut – How To Cut Your Own Hair – Philips Norelco Multigroom 7000 MG7750/49
Philips Norelco Multigroom 7000 MG7750: https://amzn.to/2xO0KPV
Layrite Pomade: https://amzn.to/3ahW4TC
Philips Norelco Multigroom 3000 MG3750: https://amzn.to/2O1cSXB
Wahl Lithium Ion Plus: https://amzn.to/2ppZNsW
Are the barber shops closed and you need a haircut? Well, in this video, I'm showing you how to trim your hair from home with the Philips Norelco Multigroom 7000 All-in-one trimmer, Model MG7750/49.
Now as most of us are living in quarantine in our homes, we may have come to find out that our hair is growing a bit long, as the days pass and the barber shops are closed. So, that leaves us with little option, other than to have someone in our family cut our hair or cut our hair ourselves.
Now a DIY home haircut or cutting our own hair anywhere is definitely intimidating. It's intimidating to myself. I know some barbers out there that won't even cut their own hair. But the good news is that while we are all in self isolation, we really don't have to see anybody. So we can practice cutting our hair from home and if we mess up, no big deal.
As you may find that many dedicated hair clippers are sold out or unavailable, I think the best option in this case is to reach for the Philips Norelco Multigroom 7000. It is an all-in-one hair trimmer, beard trimmer and body groomer that I have been recommending for a while now and many of you have available already in your homes.
The Philips Norelco Multigroom 7000 is the perfect all-in-one device. It's great for cutting your hair at home, it has the precision the give you a crisp beard trim and has the flexibility to take care of your body grooming needs.
Compared to dedicated hair trimmers, such as a Wahl Clipper, the Philips Noreclo Multigroom 7000 MG7750 does not have to be plugged in while using. The Multigroom 7000 can be used anywhere, while a hair clipper cord can get in the way and may be seen as an annoyance to those not familiar with it.
While your head hair and beard hair are starting to get a bit long and scruffy, trimming your beard for precision with this MG7750 trimmer will get the job done at a reasonable price. At right around $60 on Amazon, this Philips Norelco trimmer is well priced for the level of detail it provides.
Now, while the Multigroom 3000 sells for the bargain price of $19.99, it includes only 13 pieces. The Multigroom 7000, however, includes 23 pieces for hair, face and body grooming. This puts the Multigroom 7000 more in line with the Wahl Lithium Ion Plus, which has very similar detailing attachments.
Similar to the Multigroom 3000, the Multigroom 7000 requires you to keep switching out hair, beard, and body guards for each length you require. However, this grooming device offers a greater range of attachments, leaving all beard and hair length trimming options covered. This is helpful when looking to cut or trim your hair for a faded hairstyle look.
Additionally, the Multigroom 7000 includes a foil shaver for creating a smooth finish and a quarter inch precision trimmer for tight spaces. These attachments will help get past that stubble finish of the Multigroom 3000 and leave you with a smooth finish.
Where the Philips Norelco Multigroom 7000 has an advantage is its quiet, powerful motor and DualCut blades. This precision trimmer cuts crisp lines and feels smooth throughout its use. It fits into tight spaces with ease and was able to detail my beard with efficiency.
The Multigroom 7000 is reasonably priced, quality made, and gets the job done for your DIY home haircut, beard trim or body groom.
It's not the $19.99 bargain of the Multigroom 3000, but for under $60 it's well worth it for the precision and detail you will achieve.
The Philips Norelco Multigroom 7000 includes 23 pieces, which include the following: – A trimmer handle – 32mm full metal trimmer – Wide trimmer – Foil Shaver – Precision trimmer – Nose & ear trimmer – 4 hair guards – 2 fading hair guards – 3 beard guards – 2 stubble guard – 2 body guards – 1 eyebrow guard – Nose & ear trimmer – Brush – Storage bag – Power Cord