Deva Cut on Type 4 Curls! Curls One On One Salon | BiancaReneeToday
Deva Cut on Type 4 Curls! Curls One On One Salon | BiancaReneeToday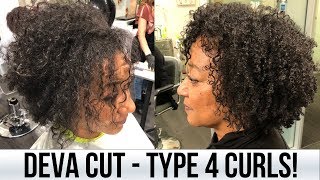 Another successful Deva Cut at the Curls One On One Salon in Beverly Hills California! I took my Mother-In-Law Meredith to get her hair done since she has just decided to wear her natural hair!
@CurlsOneOnOne
Her haircut was done by @DonatelaDevaCurl.
Washed/Styled by @_LetMePaintYourCurls_ (Also a colorist)
@EzzyDevaCurl is also an amazing colorist
If you have curly hair I definitely recommend visiting
Curls One On One
8383 Wilshire Blve.
Salon Republic Studio 101
Beverly Hills CA 90211
Pricing & Bookings at www.Vargo.com/CurlsOneOnOne
Follow me on IG, Snapchat & Twitter for DAILY beauty tips @MzBiancaRenee!
Please LIKE and SUBSCRIBE for more videos! FOUNDATION REVIEWS every FRIDAY at 9am PST and Curly Hair/ Beauty videos every Sunday at 6AM PST.
Follow me on SNAPCHAT
@MzBiancaRenee
Follow me on INSTAGRAM
www.instagram.com/MzBiancaRenee
Follow me on TWITTER
www.twitter.com/BiancaReneeToday
Business Inquires please email
BiancaReneeToday@gmail.com