Dark Phoenix Autumn Hair Color
Dark Phoenix Autumn Hair Color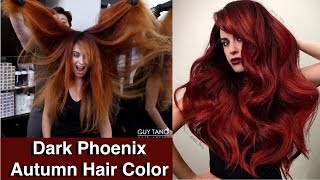 I am loving red hair color for Autumn/Fall season! Do you like Rebecca's new hair color? The Grey Coverage of #Mydentity is insane! It provides 100% grey coverage.
Get your #Mydentity Colors and Lighteners: www.mydentitycolor.com
You can also get it in-stores or online
USA/Canada: CosmoProf and Armstrong McCall
France – Bleu Libellule
Quebec, Canada – Concept JP
Poland – A&M Premium Distribution http://mydentity.pl
https://www.facebook.com/GuyTangMyden…
United Kingdom – Salon Success/Salon Services
http://www.salon-success.co.uk/our-br…
Norway – Frends
Sweden – Baldacci

Australia/New Zealand – HairCare Australia
http://haircareaust.com/blog/2017/09/…
Greece – Papageorgiou N & M SA
MORE #Mydentity countries in the coming months!!!
Guy Tang #Mydentity Color Formula:
Grey Coverage:
Natural Ice 6NI Permanent 40 grams + Copper Red Copper CRC 6CRC Permanent 40 grams + 20 volume #mydentity dedicated developer equal parts 1:1 ratio 80 grams
Process for 30 minutes
Pre-Lighten/Bleach – #Mydentity #Magnum8 20 grams + 30 vol dedicated developer 1:2 ratio + Olaplex No1 1/32 oz
Process for 30 minutes
Formula 1: Rootage to Mids #Mydentity 6CRC Permanent Color + #mydentity 10 volume dedicated developer 1:1 ratio
Formula 2: Mids to Ends #Mydentity 7CRC Permanent Color + #mydentity 10 volume dedicated developer 1:1 ratio
Process for 30 minutes
Gloss:
Formula 1: Rootage to Mids #Mydentity 6CRC Demi-Permanent Color + #mydentity 6 volume dedicated developer 1:2 ratio
Formula 1: Ends #Mydentity 7CRC Demi-Permanent Color + #mydentity 6 volume dedicated developer 1:2 ratio
Process for 25 minutes
FTC disclosure: http://guytanghair.blogspot.com/2016/…
Follow your No.1 #Hairbestie Guy Tang:
YouTube: https://www.youtube.com/GuyTangHair
Instagram: http://instagram.com/guy_tang
Facebook: https://www.facebook.com/GuyTangHairA…
Twitter: https://twitter.com/Guy_Tang
Snapchat: @guy_tang
#MydentitybyGuyTang