Cut Grandpa's Hair! | How to Cut Men's Hair | Simplest Tutorial HD
Cut Grandpa's Hair! | How to Cut Men's Hair | Simplest Tutorial HD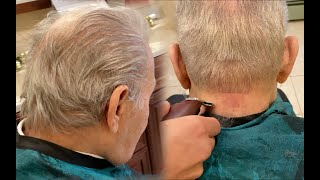 Clippers: https://www.amazon.com/Premium-Clipper-accessories-multiple-attachments/dp/B08M6FZ57J/ref=sr_1_66?dchild=1&keywords=tips+for+clips+professional+hair+clippers+cordless&qid=1606333382&s=beauty&sr=1-66
Trimmers: https://www.tipsforclipshair.com/store-1/trimmers-2
How to cut your grandfather's hair at home!
Step 1: #4 (opened)
Step 2: #3 (opened)
Step 3: #2 (opened)
Step 4: scissor trim top
Step 5: shape up with trimmers
All profits on tipsforclipshair.com are donated to those struggling during the COVID-19 pandemic.
SUBSCRIBE for more videos!