Curly Haircut Step by Step — Cliffs Barber Corral Tutorial 7
Curly Haircut Step by Step — Cliffs Barber Corral Tutorial 7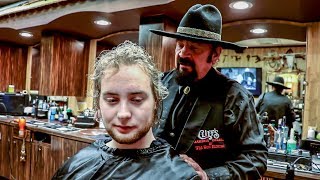 Sometimes walking into getting your hair cut not knowing what you want can be the best thing to happen in your life. This curly hair cut step by step guide walks you through the process of asking questions to find out what hair cut is best for the customer in order for them leave happy out the door.
Are you looking for the best of what Cliffs Barber Corral has the offer? The YouTube community has some great content available of what Cliff Wolosin has done for the barber community. Watch more here: https://www.youtube.com/playlist?list=PL_WcJTx_6kxLw99RgORgefLZg3giCkRRG
*******Special Thanks to BrandonON and Seez Santos*******
Check them out and subscribe to their channels!
Seez Santos: http://bit.ly/seezsantos
BrandonON: https://www.youtube.com/user/brandonon
I really appreciate you for watching my videos. If you want to see more be sure to SUBSCRIBE and hit the bell the cowbell 🔔 to get notified when my videos come out. Videos like this one showing you how to cut mens curly haircut as well as unintentional asmr that showcase Cliff Wolosin who is an old style barber are videos I plan on making for you every Sunday.
Let's Work Together
Instagram:https://www.instagram.com/cliffwolosinthebarber/
Facebook: https://www.facebook.com/CliffsBarberCorral/
Cliff's Barber Corral, Inc
Address: 3330 E Tropicana Ave # A, Las Vegas, NV 89121
Hours:
Sunday 8AM–5PM
Monday 8AM–7PM
Tuesday 8AM–7PM
Wednesday 8AM–7PM
Thursday 8AM–7PM
Friday 8AM–7PM
Saturday 8AM–7PM
Phone: (702) 456-7300
Please Subscribe to my Channel
https://www.youtube.com/cliffsbarbercorralofficial
#curlyhaircut #stepbystep #asmr #cliffwolosin #cliffsbarbercorral #unintentionalasmr #unintensionalasmrbarber
About this video: In this video, Cliff Wolosin a traditional barber teaches you how to cut curly hair as well give you tips if your shaving for the first time in your adult life in a barber shop. He walks you through on the Cliff Wolison way of using hair gel to make cutting curly hair easier. As well as share his wisdom of cutting hair and showcases classic barber techniques to cutting hair.