Conair Evencut Hair Trimmer: DIY Hair Cut
Conair Evencut Hair Trimmer: DIY Hair Cut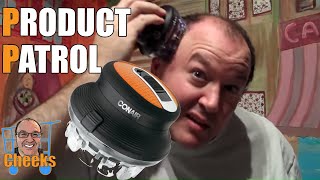 Conair Evencut Hair Trimmer: How to Cut Your Hair Yourself
Buy Now
http://amzn.to/2j8IlWZ
Cheeks is back with a DIY Hair Cut. Using the Conair Evencut hair trimmer purchased at Walmart for 47.96 plus tax.
This hair trimmer kit includes a rotating hair cutter, a mini hair trimmer for side burns, and comb kit.
It is recommended to charge the unit first and lubricate first before using each time.
Cheeks sits in his kitchen and trims his hair and has the cameraman even trim his side burns.
This men's shaver is good to travel with, rechargeable, last approx 40 minute per use.
overall the DIY Men's hair cut was a success.
WYGT (where'd you get that)Find this product
http://wygt.me/z7ombk5
Follow-up Hair cut Video- My Kids Shvve my Head
https://www.youtube.com/watch?v=70Jn-VVO7LU
Product Patrol-Reviews from Food products, travel, and various Social activities.
-~-~~-~~~-~~-~-
Please watch: "Spartan Elite Energy Drink: New Natural Energy Drink"
-~-~~-~~~-~~-~-
#menshairtrimmer #conair #evencut