Cheapest Hair Trimer & Dryer [ Wholesale / Retail ] | Chandni Chowk| Delhi
Cheapest Hair Trimer & Dryer [ Wholesale / Retail ] | Chandni Chowk| Delhi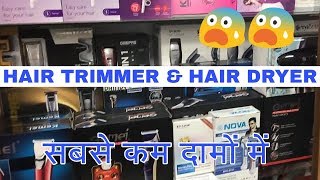 Hello,
I am prateek kumar in this video i go to Cheapest wholesale hair trimmer & dryer shop (Chandni chowk). if you intrested to buy trimmer & dryer so you can buy Hair Trimmer & Dryer in cheap price and good quality.
Nearest metro station:-chandni chowk,red fort
1.Shop Name:-Ram Ram Electronics
Address:-shop no.28-b,pleasure garden market,near guri shankar mandir,chandni chowk,DELHI-110006.
MB NO – 9582078076
Follow on instagram:-
https://www.instagram.com/prateekkumar_official/
If you like the video please subscribe to channel and press bell icon, also like,comment,share videos.
Thanks for watching us……….
.अगर इस वीडियो को देखकर कोई भी व्यक्ति माल खरीदता है तो प्रतीक कुमार यूट्यूब चैनल और प्रतीक कुमार और यूट्यूब की कोई भी जिम्मेदारी नहीं होगी तो आप सब अपनी बुद्धि से खरदारी करे और सामान ख़रीदे थैंक यू
.
.
In this market you can also watch and there are some topics are in upcomeing videos :-wholesale market,hair dryer wholesale,hair straightener,threading machine,eyebrows trimmer,hair remover machine,trimmers,chandni chowk market,shaving machine,hair curler,Electric Shaver Cheap Price In delhi,Buy Shaver,Trimmer,Straighteners,Hair Dryer,Buy Cheapest Shaver,Best place to buy Electric Shaver in bd,Straighteners,Hair Dryer,Buy Cheap Hair Dryer,Cheap Trimmer shop in delhi,Buy Shaver in india,best Electric market in delhi,hair tutorial,best electric shaver,grass,philips,string trimmer,hair,hairstyle,Review,hair clipper,Trimmer REVIEW,FAKE Vs ORIGINAL Wahl,spot the fake one,Nova,Cordless,NHC – 3915,Trimmer for men,Sabse sasta,Only Rs.100,nova trimmer 4005,nova 4000,nova trimmer review,philips trimmer replica,shaving,trimming,Haircut,cleaning trimmer,Demo,Style,Beauty,best trimmer,nova 4011,Phillips trimmer,nova trimmer for men,nova nhc 810 hair straightener