Boy's Epic Staredown Battle Goes Viral
Boy's Epic Staredown Battle Goes Viral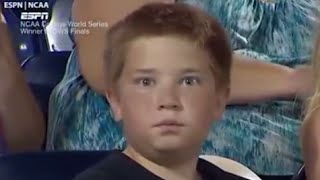 Kid's epic staredown with ESPN cameras at the NCAA Baseball World Series is the best video you'll see all day!
In a video that has quickly gone viral, the boy is seen staring at an ESPN camera that trained its lens on him during the Coastal Carolina University versus Texas Christian University game. The freckle-faced boy stares straight at the camera without blinking and while making funny faces.
https://www.goodmorningamerica.com/living
SUBSCRIBE to GMA ► https://www.youtube.com/channel/UCH1oRy1dINbMVp3UFWrKP0w/subscribe
To read the full story and others, visit http://www.goodmorningamerica.com
Good Morning America (GMA) brings viewers an award-winning combination of breaking news, exclusive investigations, hard hitting interviews, weather forecasts, cutting edge medical field information, and financial reporting every morning. Join Robin Roberts, George Stephanopoulos, Lara Spencer, Michael Strahan, Amy Robach and Ginger Zee weekdays at 7am on ABC.
Follow GMA across the web–
Facebook: https://www.facebook.com/GoodMorningAmerica
Twitter: https://twitter.com/GMA?ref_src=twsrc%5Egoogle%7Ctwcamp%5Eserp%7Ctwgr%5Eauthor
Instagram: https://instagram.com/goodmorningamerica/?hl=en