Blowout Tutorial on Natural Hair ( Full Sample of Online Education for Hairstylists)
Blowout Tutorial on Natural Hair ( Full Sample of Online Education for Hairstylists)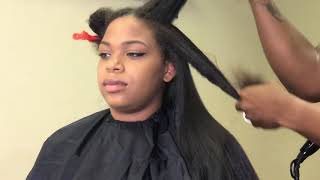 got TUTORIALS ??? ✂️
Haircutting Step by a Step Tutorials, 🎨 Haircolor Step by Step Tutorials , 💨 Blowout Step by Step Tutorials… ALL Available on the TRIBE MEMBERSHIP.
NO TRAVELING out of town,
NO BOOKING HOTELS,
NO TRADE SHOW TICKETS or purchasing MANDATORY PRODUCTS,
NO BAD SEATING IN A CLASS….
just pure EDUCATIONAL TUTORIALS in HD delivered directly to you in the comfort of your HOME , BUSINESS or ON THE GO from ANY CITY in the WORLD 🌎! 24/7/365 !
Visit our website link below to view ALL the Benefits of the TRIBE for JUST $14.99 a month ( that's the cost of lunch for you and a coworker … Super Affordable for even a Cosmo student ! ) 🙌🏾.
CLICK LINK to view details : https://m.connectpal.com/torreganotribe