(Best) Hairstylist Hack – No Stain Nails – Dipping Powder Gel Nails
(Best) Hairstylist Hack – No Stain Nails – Dipping Powder Gel Nails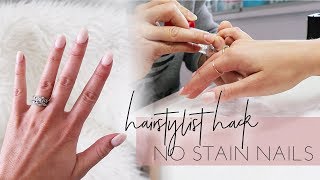 Hey guys,
I wanted to share with you my favorite hairstylist hack of all time! Do you hate have 6N nails because you stained them washing your client out at the shampoo bowl? Or hate that you can only pick darker nail colors? Now you don't have to!
I'm sharing how I can have light colored nails and keep them from getting stained! It's seriously the best! And my nails are healthier than they were before, major win!
What do you think? Would you try dipping powder nails? Let me know in the comments!
➵ COME SAY HI OVER ON MY INSTAGRAM: https://www.instagram.com/jamiedanahairstylist
Are you a hairstylist who wants to get more followers and ultimately more clients in your chair? I have a workbook I created just for you that takes away the confusion of using hashtags on Instagram!
➵ Download my FREE Hashtag How To Guide for Hairstylists: https://www.jamiedana.com/hashtagworkbook