Best Barber School in Arizona, United States
Best Barber School in Arizona, United States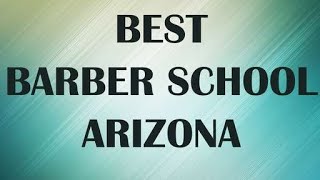 Must Watch…. Best Barber School in Arizona, United States
Don't forget to subscribe our channel to view more Education related videos. Click on Bell ICON to get the notification of our latest Videos.
This list of Best Barber School in Arizona, United States has been compiled by our Education experts after online / offline research combined with the reviews from our users. If you know any institution that we missed, please mention in the comment box below. This list will be updated from time to time.
Thanks for watching!!!
List:
Phoenix Barber School
3529 W Northern Ave
+1 602-518-6894
Arizona Barber Styling College
2842 W Van Buren St
+1 602-484-7248
Mesa Barber School
811 W University Dr UNIT 101
+1 480-464-6072
International Barber College
7200 W Chandler Blvd #5
+1 480-753-4418
Universal Barber College
1202 S 7th Ave
+1 602-262-9904
Mesa Barber School 2
67 N Dobson Rd STE 102
+1 480-464-3577
Latin Style Barbering School & Supplies Inc.
510 E Baseline Rd unit d-1
+1 602-243-7248
D'IMAGE BARBER COLLEGE PHOENIX
2539 N 35th Ave
+1 602-374-3113
MAKE' N THE CUT BARBER COLLEGE
13340 W Van Buren St
+1 480-797-6100
OT's Barber School
6042 W Bethany Home Rd
+1 623-915-9333
All American Barber Academy
5834 N 43rd Ave
Cuts & shaves by students-in-training
+1 623-939-3440
Hinojos Barber College (Barber School)
2828 N 51st Ave #160
+1 602-884-0327
Dunbar Barber Academy
325 W 2nd St #7667
+1 520-624-0131
D'Image Beauty College
2539 N 35th Ave Suite 5
+1 602-278-3144
D'Image Barber College Avondale Llc
515 W Western Ave
+1 602-410-0702
D'Image Avondale Beauty & Barber School
515 W Western Ave
+1 602-649-4530
Xtylo Beauty & Barber College
1200 N 91st Ave
+1 623-230-2947
Jacksons Barber College
5221 AZ-95
+1 928-768-2228
Hollywood Barber College
1336 W Prince Rd
+1 520-887-0532
Nation of Barbers
1733 E McDowell Rd
+1 602-875-6757