Become a Mayvenn Stylist Sell Hair for FREE?!
Become a Mayvenn Stylist Sell Hair for FREE?!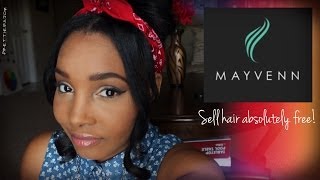 HOW THE STYLIST CAN GET STARTED:
(Only open to US stylist as of now but will soon expand internationally sorry 🙁 )
TO SIGN UP WITH MAYVENN
CALL 866-424-7201
MONDAY – FRIDAY
FROM 9:00am – 5:00pm
Like their Fan Page on FB:
https://www.facebook.com/MayvennHair
Follow them on Instagram:
Mayvennhair
Follow them on Twitter:
Mayvennhair
WHAT THE STYLIST GETS:
-The stylist will get 15% commission for every sale they make (no matter the amount of the order).
-The stylist gets paid direct deposit every week on wednesday (or check if they don't have a bank account).
-For every 4 sales (of 2 bundles or more) they get a hair credit of $150 to buy bundles! The stylist can let that add up as well, to get more bundles and longer lengths.
-Free website (you can name the site whatever you'd like).
WHAT THE STYLIST HAS TO DO:
All you have to do is let your clients know how to order hair from you by posting the website on all your social media pages. THAT'S IT. Mayvenn will do all the work from there.
HOW THE SERVICE WORKS:
The clients buy hair on that stylists website
Mayvenn Ships the hair off (FREE SHIPPING 3 to 5 business days, Express for $15 1 to 2 business days)
Mayvenn will offer customer service to the client, and the stylist.
JUST WANT TO PURCHASE HAIR GO TO:
www.shop.mayvenn.com
ftc disclaimer: this is a sponsored video Get the Make Pallete: http://zocko.it/LCzIe
For collaborations and business inquiries, please contact via Channel Pages: http://ChannelPages.com/PrettieMajor
This video was sponsored by mayvenn