Beard Trimming Length Examples | 16 mm, 12 mm, 9 mm, 7 mm, 5 mm, 3 mm, 1 mm | Beard to Stubble
Beard Trimming Length Examples | 16 mm, 12 mm, 9 mm, 7 mm, 5 mm, 3 mm, 1 mm | Beard to Stubble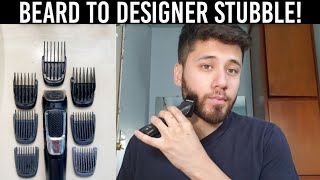 Instagram: Landope_yt
In this video, I will be using my Philips Norelco multigroom 3000 to show you guys an example of what the beard looks like from a 16 mm length beard all the way down to a 1 mm length stuble look.
I will also compare the equivalent of these guards to hair clipper guards just in case you don't have a beard trimmer. Enjoy!
Side note, 3 mm is probably best for that designer stuble look.