BASIC CLIPPER CUTTING – Using Your Guards – For Beginners
BASIC CLIPPER CUTTING – Using Your Guards – For Beginners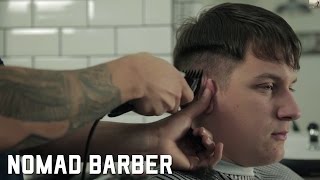 MIY INSTAGRAM @NOMADBARBER
This is a simple to follow tutorial outlining the basic rules behind using your detachable clipper guards and using a bit of clipper over comb for blending. I've tried to keep it as simple and easy to follow as possible. Please give it a like if you enjoy and please subscribe
@nomadbarber
Nomad Barber is a web-series following Miguel Gutierrez discover barbering around the world. We also have tutorials and Vlogs all about men's grooming, travel and lifestyle.
Please subscribe by clicking here http://bit.ly/1lBV5la
http://www.nomadbarber.com – WEBSITE
http://www.instagram.com/nomadbarber – INSTAGRAM
http://www.facebook.com/nomadbarber – FACEBOOK
http://www.twitter.com/nomadbarber – TWITTER
http://www.instagram.com/nomadbarberldn – LONDON SHOP
http://www.instagram.com/nomadbarberbln – BERLIN SHOP
Perfect tutorial for cutting your own hair, cutting hair at home or self haircuts during the corona/covid quarantine/lockdown.
Please check out Baba the cosmic barber and his famous world's greatest head massage here http://bit.ly/1jVxKrK
For Indian head massages, Turkish head massages, Turkish Shaves, ASMR Video's, general barber massages and shaves please head to http://www.youtube.com/nomadbarberasmr