Barbershop (4/11) Movie CLIP – Ya'll Don't Know Nothin' (2002) HD
Barbershop (4/11) Movie CLIP – Ya'll Don't Know Nothin' (2002) HD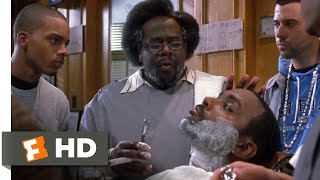 Barbershop movie clips: https://www.youtube.com/playlist?list=PLZbXA4lyCtqpX8gsn7zj9c-ITcQHC7rEI
BUY THE MOVIE: http://j.mp/12O4kBr
Don't miss the HOTTEST NEW TRAILERS: http://bit.ly/1u2y6pr
CLIP DESCRIPTION:
Eddie (Cedric the Entertainer) preaches about what it used to mean to be a barber while showing the others how to give a proper shave.
FILM DESCRIPTION:
Calvin (Ice Cube) never wanted to take over the family business, a barbershop on the south side of Chicago. Disgusted with the shop's crime-ridden neighborhood, and caught up in his moneymaking schemes, one morning Calvin decides to sell the shop to the shady Lester (Keith David). Chastised by his pregnant wife, Jennifer (Jazsmin Lewis), for his rash decision, Calvin spends the day cutting heads at the shop, and starts to understand the importance of the legacy his grandfather and father have left to him. The bickering barbers include Eddie (Cedric the Entertainer), the old-timer with his own unique perspective on black life; Terri (rapper Eve in her film debut), a hot-tempered woman with a trifling boyfriend; Jimmy (Sean Patrick Thomas), a college educated snob; Ricky (Michael Ealy) a reformed criminal; Isaac (Troy Garity, the son of Jane Fonda and Tom Hayden), a white B-Boy, whom no one is ready to let cut their hair; and Dinka (Leonard Howze), a recent African immigrant who's too shy to express his feelings for Terri. Calvin learns to appreciate them all, and discovers that the place where they work is more than just a place to get a haircut — it's a meeting place for the neighborhood, a place where folks can speak their minds and find out what's happening. Calvin gradually changes his mind about selling the shop, but it may be too late. Meanwhile, a bumbling thief, J.D. (Anthony Anderson) spends a painful day trying to crack open the ATM he's stolen from the grocery store across the street. Barbershop was directed by Tim Story and produced by George Tillman Jr. and Robert Teitel, the producers of Soul Food. Barbershop had its world premiere at the 2002 Urbanworld Film Festival.
CREDITS:
TM & © MGM (2002)
Cast: Ice Cube, Cedric the Entertainer, Sean Patrick Thomas, Eve, Troy Garity, Michael Ealy, Leonard Earl Howze, Jazsmin Lewis
Director: Tim Story
Producers: Matt Alvarez, Mark Brown, Thomas J. Busch, Larry Kennar, Robert Teitel, George Tillman Jr., Rocky Russell
Screenwriters: Mark Brown, Don D. Scott, Marshall Todd
WHO ARE WE?
The MOVIECLIPS channel is the largest collection of licensed movie clips on the web. Here you will find unforgettable moments, scenes and lines from all your favorite films. Made by movie fans, for movie fans.
SUBSCRIBE TO OUR MOVIE CHANNELS:
MOVIECLIPS: http://bit.ly/1u2yaWd
ComingSoon: http://bit.ly/1DVpgtR
Indie & Film Festivals: http://bit.ly/1wbkfYg
Hero Central: http://bit.ly/1AMUZwv
Extras: http://bit.ly/1u431fr
Classic Trailers: http://bit.ly/1u43jDe
Pop-Up Trailers: http://bit.ly/1z7EtZR
Movie News: http://bit.ly/1C3Ncd2
Movie Games: http://bit.ly/1ygDV13
Fandango: http://bit.ly/1Bl79ye
Fandango FrontRunners: http://bit.ly/1CggQfC
HIT US UP:
Facebook: http://on.fb.me/1y8M8ax
Twitter: http://bit.ly/1ghOWmt
Pinterest: http://bit.ly/14wL9De
Tumblr: http://bit.ly/1vUwhH7