Barber Jobs in London and New York at Pall Mall Barbers
Barber Jobs in London and New York at Pall Mall Barbers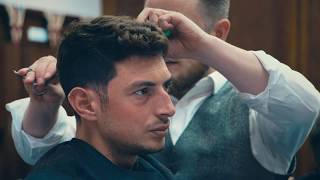 To apply, please email hiring@pallmallbarbers.com with details about your experience in barbering and some photos of your work (if you have some).
Experienced Men's Hairdressers/Barbers needed.
You will be cutting and styling the hair of a large range of successful clients from Google, Facebook, Man City, Visa, Microsoft and many more.
To work at Pall Mall Barbers you must have a minimum of 3 years experience in cutting men's hair.
The most important aspect is that you are willing to develop yourself and work as part of a team. We require our barbers to be enthusiastic, hard-working and dependable with a passion for barbering. We provide in-house training for the right person.
Barber Jobs London | Jobs for Barbers London | Barbering jobs London | Barber salary London | Barbershop London | Best barbers London | Barber work London | Barber career London | Careers in the Barbering industry | Barber jobs in the UK | Barbering industry jobs in the UK | Barber jobs New York | Barber work New York | Barbers jobs New York