BALDING HEAD SHAVE – WAHL BALDING CLIPPERS
BALDING HEAD SHAVE – WAHL BALDING CLIPPERS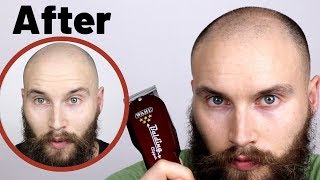 #headshave #buzzcut #wahl
Buy Wahl Balding clippers here: https://amzn.to/2ZIIun3
My Favourite Head Shaving and related products Here: https://www.amazon.co.uk/shop/baldcafe
This is an Amazon affiliate store and if you do make a purchase I will make a very small percentage at no extra cost to you and it really really helps support the channel. Thank you.
In todays video I will be shaving off my week old receding and balding hair for a more cleaner buzz cut/head shave.
The Wahl balding clippers are said to be a fantastic choice for guys out there who are going bald and choose to shave their head with a frequent buzz cut.
Thank you for watching. If you are struggling with hair loss then download my free ebook available at: https://www.baldcafe.com
If you have any questions about hair loss then you can contact me via
Email: Baldcafe@outlook.com
Instagram: https://www.instagram.com/baldcafe
Facebook: https://www.facebook.com/baldcafe
You can also listen to the podcast on Soundcloud and iTunes.