BALDING HAIRCUT BUZZ CUT – Remington Quick Cut Review
BALDING HAIRCUT BUZZ CUT – Remington Quick Cut Review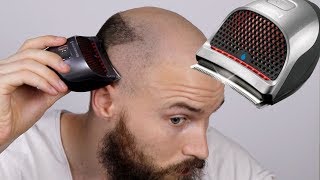 #balding #buzzcut #quickcut
BUY BALD CAFE'S BALD HEAD BUTTER HERE: https://bald-cafe.myshopify.com
Buy The Remington Quick Cut here: https://amzn.to/2X3ybNu
For guys losing their hair and wanting to free themselves from the pain with a swift clean head shave, Is the Remington Quick Cut the best product for the job?
Find out in todays video!
My Favourite Head Shaving and related products Here: https://www.amazon.co.uk/shop/baldcafe
This is an Amazon affiliate store and if you do make a purchase I will make a very small percentage at no extra cost to you and it really really helps support the channel. Thank you.
Thank you for watching. If you are struggling with hair loss then download my free ebook available at: https://www.baldcafe.com
If you have any questions about hair loss then you can contact me via
Email: Baldcafe@outlook.com
Instagram: https://www.instagram.com/baldcafe
Facebook: https://www.facebook.com/baldcafe
You can also listen to the podcast on Soundcloud and iTunes.